Private Real Estate Lender in Boston
Private Real Estate Lender in Boston
FAR BEYOND WHAT OTHERS CAN PROVIDE
The ability to secure financing is essential when you're in Boston's increasingly fast-paced real estate marketplace. The extensive time required to get a conventional loan, as well as meeting the ridged lending requirements, can make working with traditional financial institutions and banks a nightmare for developers and builders. For over 50 years and counting, our team at The Raymond C. Green Companies has been helping local builders, developers and real estate investors find the creative funding solutions needed to compete in today's market. Our longevity is rooted in our professionalism, responsiveness and emphasis on customer service.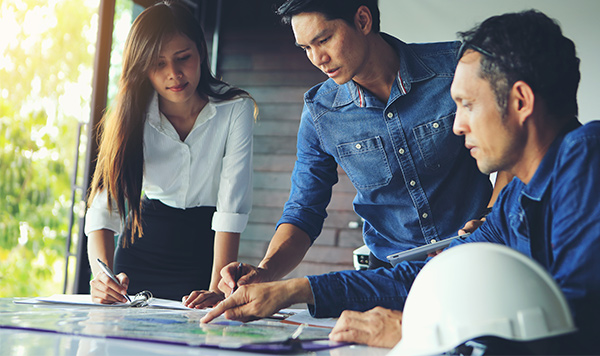 Our reputation as the go-to private real estate lender in Boston is built, in-part on the positive feedback we regularly receive from our borrowers. Eric L. of Terra Firma Real Estate Group explains what makes us the right choice for his business, "I am a real estate broker of 20 years and a general contractor supervisor of 13 years. I have done several of transactions with the Raymond C. Green Companies. It is always a pleasure to work with Ray, Justin and Spiro. They have always treated me fair, with respect, prompt in providing support and answers to any project concerns I may have. I highly recommend their programs and intuition. The Raymond C. Green Companies is the best hard money lending company in Massachusetts."
Dr. Lawrence S. DDS shares his experience, "Having financed two real estate development projects with the Raymond C. Green Companies, I can confidently recommend their services. Both transactions went from inquiry to term sheet quickly and efficiently. The closings followed as scheduled and most importantly, without any surprises. There are many marginal participants in the asset lending market to navigate. I have found The Raymond C. Green Companies to be a direct lender with local decision makers and the quickest, most cost-efficient lending route for my projects."
No matter what your specific need for a private real estate lender in Boston may be, our team at The Raymond C. Green Companies has you covered. Through direct consultation with you and careful research of your project, we can design a financing solution that is customized to reflect your specific goals, budget and timeline. Unlike other lenders, our funds are not tied to Wall Street or banks. This independence allows us to base our decision for your loan on factors like collateral, cash flow, after repair value and investment history – versus solely relying on traditional criteria like credit score and debt to income ratio.
At The Raymond C. Green Companies, we make the experience of attaining a private real estate loan hassle-free from initial consultation to final commitment. Our loans are held on our own balance sheet and serviced in-house. As such, we are able to provide flexible funding solutions without input from third-party appraisers and committee members – which are often utilized by traditional lenders and banks. This level of autonomy allows you to capitalize on investment opportunities as they present themselves and avoid losing the purchase to another buyer. Much like Boston's real estate market, we don't take weekends off. You can reach a member of our staff seven days a week.
If you need a private real estate lender in Boston that you can rely on, call us at (617) 947-8070, email [email protected] or contact us using the form here on our website to begin exploring your options today.
We look forward to helping you.